I'm sure many feel the same. You know a perfectly beautiful girl/pornstar with a real sexy body and nice boobies - and then she gets a boobjob and looks like another whore with plastic tits.
I recently got shocked again when I saw the beautiful Maya Hills get new plastic boobies. They are well done and look pretty good, but still, her former *real* tits were just perfect for her body and they were really nice.
I think it's a real shame when girls who don't really need them get their boobs enlarged. Maya is still my favorite, but formerly she looked just real cute and sexy together, now more like a typical porn whore. Anyway, she still got her cute face and perfect ass and pussy.
Please post your own before and after of pornstars you like!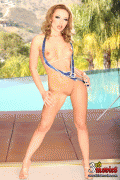 before and after boobjob